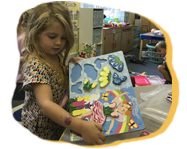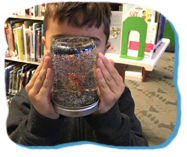 NURSERY
(14 students and two teachers per class)
For children who will be three years old by 12/l.
Children may attend three to five days per week.
Morning Session:
M, T, W: 9 am - 12 noon M-Th or M-F: 9 am - 12 noon
Afternoon Session:
M, T, W: 1 pm - 4 pm M -Th: 1 pm - 4 pm
Our Nursery Program encourages your child to expand his/her world, to become independent and to participate in a variety of fun activities. Through a thematic, integrated curriculum, your child will be given many opportunities to develop his/her language skills, as well as grow socially and intellectually. Themes include "Fall Changes Around Us:' "Animals in Winter" and "Spring Gardens' or a month of exploring the picture books of Eric Carle, concluding with a presentation of the "Very Hungry Caterpillar" by the children for their parents.
Each day, your child will play, sing, build, create, role play, ask questions, discover new things, listen to stories, do their classroom jobs and continue to learn about the world around them. Throughout the year, your child's growth will be enhanced through art projects, field trips, cooking, math, science, music, and drama. Physical activity, critical for growing minds and bodies, such as dancing, movement, running, playing ball, swinging, climbing and bike riding, is also encouraged.